Many, many people have been using trail cameras to find thieves, vandals and trespassers.  There are a couple basic types of security trail cameras you will want to know about.
1. The first is the license plate camera.  If you have someone driving onto your property (or business) and need to strictly get their plate numbers, you need the Reconyx SM750.   The SM750 is also covert infrared, so the intruder will not see the infrared flash.
This is the only game camera on the market that does not "wash out" the license plate.  Below is an example of a picture taken with the SM750.  The Reconyx SM750 is only good for license plates as all other night pictures are completely dark and you will not be able to i.d. a human.
2. The second type of security trail camera is for humans.  The best camera for this is the Reconyx SC950 Security Camera.
The Reconyx SC950 is a covert (no visible infrared flash) flash camera.  It also has "rollover" which just indicates that if your sd card fills up, it will write over the oldest pictures.
Maybe the most useful feature is being able to program what time the camera comes on and off.   For instance, if your business is open from 9-5 pm, then you can set the camera to come on at 5 pm and go off at 9 pm.  This way, you won't get 3000 pictures of your employees working all day!
Here is a few pictures from the SC950…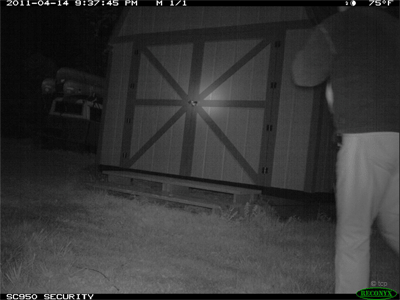 I hope this helps, shoot me an email if you have any questions (nick@trailcampro.com).